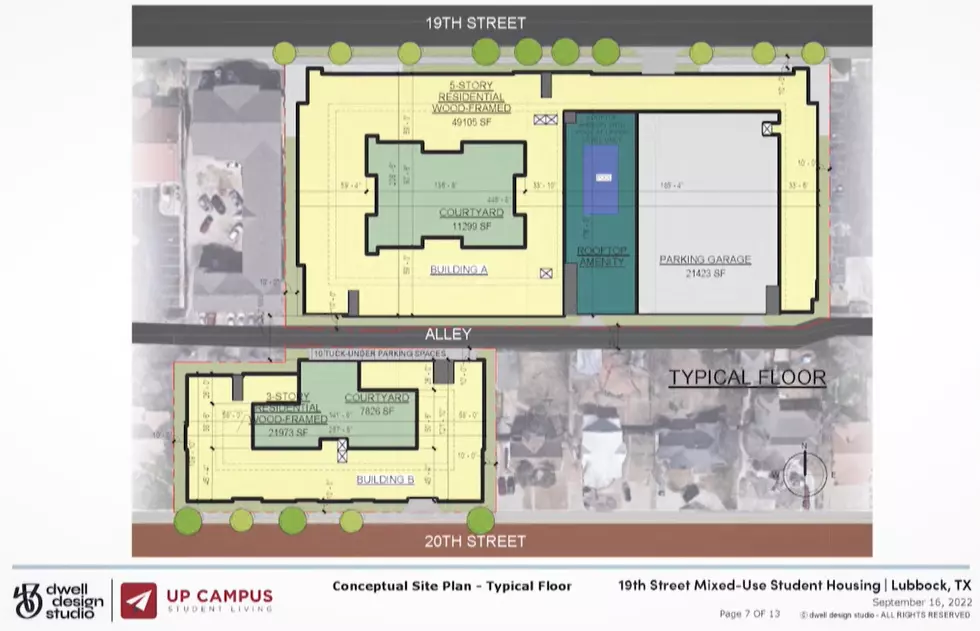 Tech Terrace Student Housing Project One Step Closer To Happening
Up Campus
This has been a battle on both sides but we are one step closer to it actually happening.
It was a long hearing on Thursday for the Lubbock Planning and Zoning Commission to hear the request for change in the zoning near the Texas Tech campus. If approved it would allow a student housing apartment west of University Avenue.
This request has received a lot of pushback from the city and the Tech Terrace Neighborhood Association. The first time the commission voted the request down back on November 3rd, voted 6-3 to deny the zoning change, but the developer is back with a revised plan.
This time it passed.
If developed, it would include a five-story, 600-bed apartment building on 19th Street with retail space and a parking garage. On 20th Street, the developer proposed building seven two-story homes, which is a change from the previous plan. This location is where Cafe J and the Godbold Center are currently located. Although the Tech Terrace Neighborhood Association opposed the new plan, it gained enough support from the commission.
The new plan is a lot smaller. The changes include reducing the number of beds from more than 700 to 600. Previously, on 20th Street, there was a three-story apartment building, now the developer is building houses there. They say it will fit in with the neighborhood with reduced traffic. They've also reduced the size of the project by about 20%.
TxDOT, which currently owns 19th Street, has approved of the plan.
The proposal, with the commission's and planning department's recommendation of approval, goes to the city council for the final say. That is expected to happen on Feb. 28th, 2023.
22 Top Moments from the Texas Tech Gigapixel Photo
I spent way too much time on this gigapixel photo and enjoyed every minute of it.
Texas Tech Looks Rather Lovely Covered in Snow
Lovely images of the Tech campus after a big snow.
More From Lonestar 99-5 FM