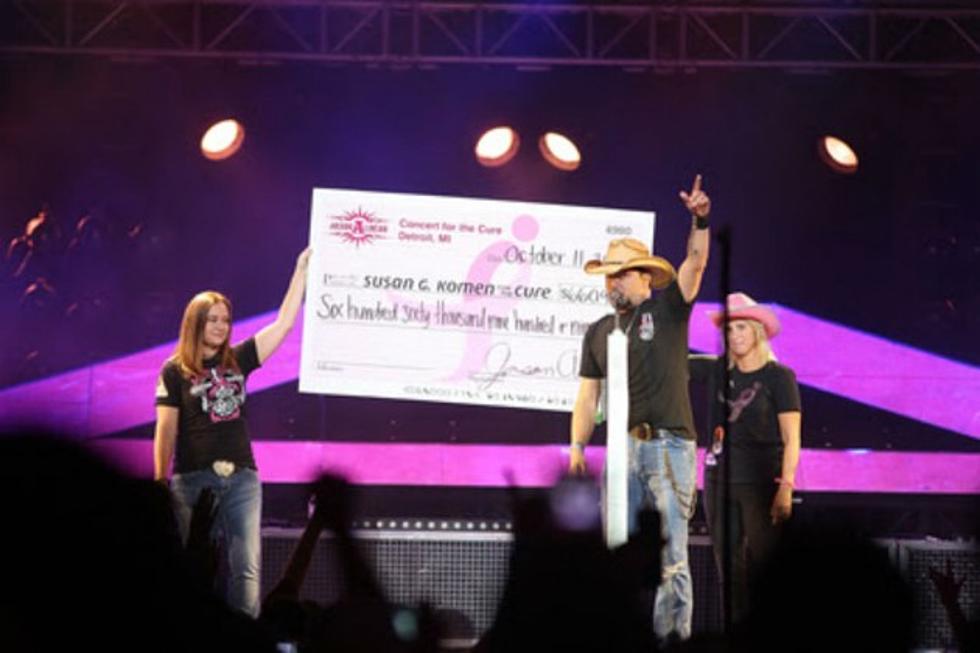 Jason Aldean Raises Over $660K for Breast Cancer Research
Loreen Sarkis, Getty Images
Jason Aldean celebrated the release of his new 'Old Boots, New Dirt' album by giving back. The star's annual Concert for the Cure brought in huge numbers for Susan G. Komen and breast cancer research -- to the tune of $660,909!
The 'Burnin' It Down' singer held his ninth annual Concert for the Cure on Saturday night (Oct. 11) in Detroit, Michigan. This year, Aldean raised the bar and the funds, upping the ante following 2013's whopping $575,826 raised from a concert in New Orleans.
The Concert for a Cure has grown steadily since its inception several years ago. Aldean donated 'just' $40,000 from the first event -- a number which doesn't even hold a candle to what he's raising these days.
Even though it's for a serious cause, Aldean wants everyone at the show to have a little fun (and of course wear pink!).
"We always try and have a lot of fun with our Komen show each year," the singer explains. "It isn't just about raising money to help find a cure, it's also about celebrating everyone who is going through treatment now and those who've been able to beat the disease."
Jason Aldean Dishes on the Truths From His Wiki Page
More From Lonestar 99-5 FM