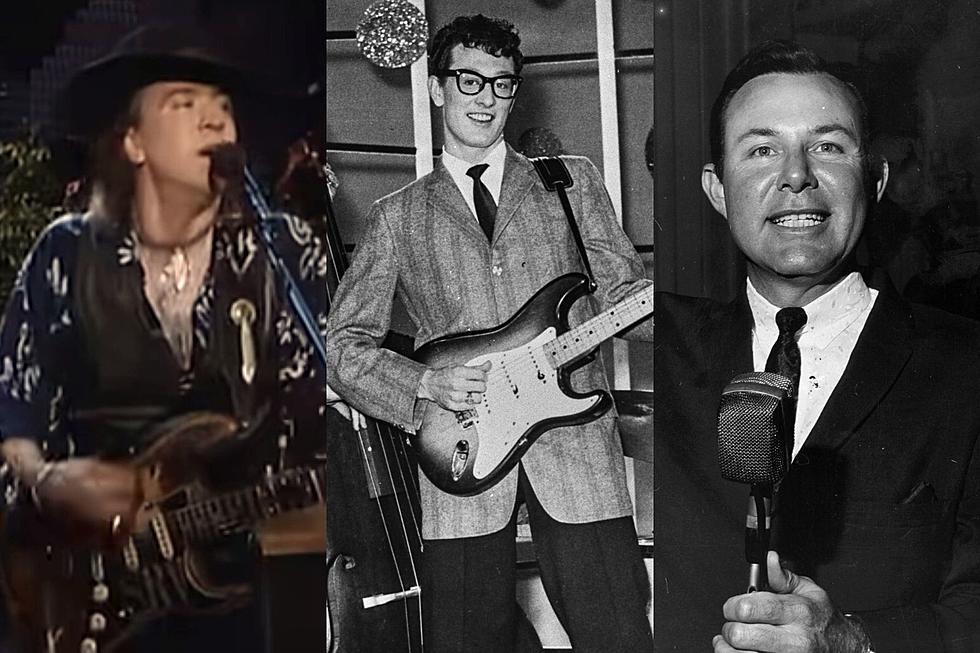 Talented Musicians We Tragically Lost in Texas Plane Crashes
Stevie Ray Vaughan via YouTube/ Getty Images/ Getty Images
In the world of music, many talented artists died way too early in plane crashes. Artists like Aaliyah, Randy Rhodes, John Denver & many members of Lynyrd Skynyrd have all tragically lost their lives too soon. Sadly that applies to Texas; not only have we seen Texas born musicians killed in plane crash but only musicians have died IN Texas.
Let's look at musicians who were killed from a plane crash in Texas.
Keith Green (1953- 1982); Lindale, Texas
The contemporary Christian artist from Sheepshead Bay, NY, Keith Green was killed when his plane crashed in Lindale, Texas on July 28, 1982 along with 11 other passengers. Their Cessna 414 would be overloaded, and crash into trees just one mile from the airport. Keith is mostly known for his songs "O Lord You're Beautiful" & "There is a Redeemer".
Ricky Nelson (1940-1985)/ Andy Chapin (1952-1985); De Kalb, Texas
Ricky Nelson & his keyboardist Andy Chapin both would tragically lose their lives on their way to perform at a New Years Eve concert . Their DC-3 crash landed in a field outside De Kalb, Texas; the 2 pilots would survive but the 7 passengers would sadly perish.
The teen idol from Teaneck, New Jersey would be inducted posthumously into the Rock and Roll Hall of Fame in 1987.
Sadly there are more Texas musicians that have been killed in a plane crash...
Jim Reeves (1923 -1964)
The country singer from Galloway, Texas, Gentleman Jim, aka Jim Reeves, is a huge name in the country world. On July 31, 1964, Jim & his pianist/manager were flying a Beechcraft 35-B33 Debonair near Brentwood, Tennessee. Their plane was caught in a brief yet intense thunderstorm; they lost visual of the ground & crashed into the ground on their way to Nashville.
Jim is still remembered fondly through his country & gospel tunes.
David Box (1943-1964)
Born in Sulpher Springs, Texas, David Box sadly lost his life at the young age of just 21 years old. The rockabilly artist (and former singer of The Crickets) would be involved in a plane crash on October 23, 1964; a Cessna 172 would crash into the water on approach to Houston, killing all 4 people on board.
Even though David never got to truly see his career flourish, people still share his music online.
Stevie Ray Vaughan (1954-1990)
The blues legend from Dallas, Stevie Ray Vaughan would sadly lose his life in a helicopter crash after a show in East Troy, Wisconsin. On August 27, 1990, his helicopter would fly into thick fog & crash into the side of a 300 foot ski slope, killing all 4 instantly.
Stevie is still remembered as one of the greatest guitar legends that has ever lived.
But of course we can't talk about plane crashes regarding Texas musicians without mentioning...
The Day the Music Died
February 3, 1959 will go down in history as one of the darkest & saddest days in music history; pilot Roger Peterson, Buddy Holly from Lubbock, Ritchie Valens from Los Angeles & The Big Bopper from Sabine Pass would all die in Clear Lake, Iowa. There have been many plane crashes before & since then, but this day will still go down as one the world will never forget...
R.I.P. to all these musicians & people who passed away...
Legends Who Never Had a No. 1 Single
It's all the more surprising when you consider the success so many of them had by any other measure.
Gallery Credit: Nick DeRiso
Rock's 20 Worst Album Covers
From weenie roasts on the moon to gigantic floating carrots, there are some real misfires here.
Gallery Credit: Matthew Wilkening
In Memoriam: 2023 Deaths
A look at those we've lost.
Gallery Credit: UCR Staff
More From Lonestar 99-5 FM