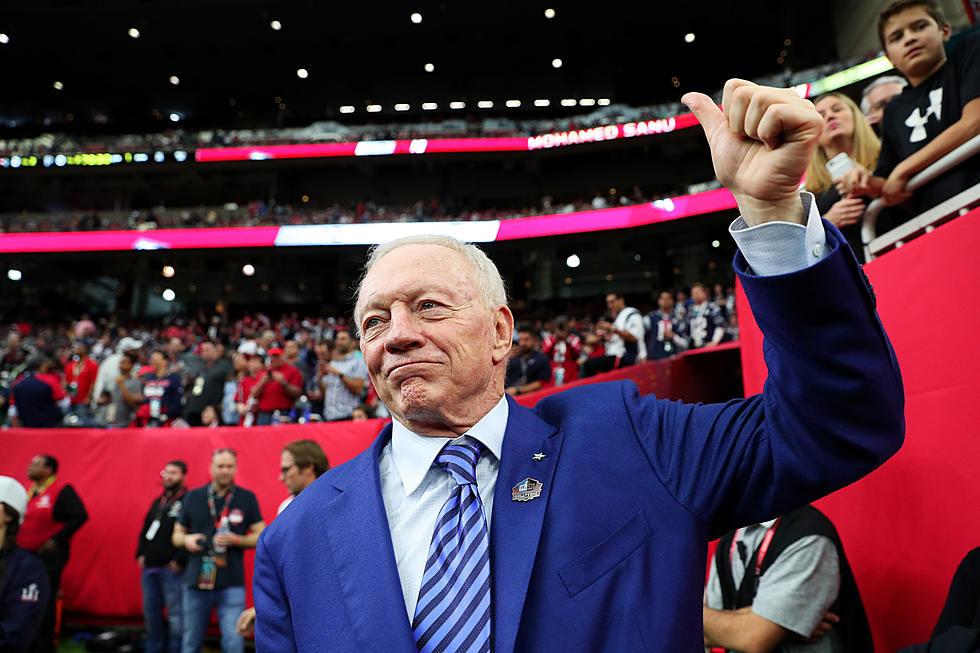 Nearly 3 Decades Without a Championship and the Dallas Cowboys are Still Worth a Ton
Getty Images
As a lifelong Dallas Cowboys fan, it's been a frustrating 20 plus years of not seeing the silver and blue lifting the Lombardi Trophy. That hasn't swayed my support for the team as disappointing as its been season after season. While Jerry Jones has been a big reason for the ineptitude, you can't argue Jones' ability to market the Cowboys. Even when the Cowboys are awful, people buy tickets and merchandise.
The Cowboys are Always Top of Mind
Jerry Jones is a master at making sure the Dallas Cowboys, good or bad, are always front and center. They can always get the story on ESPN or be the main interview for Dallas area sports talk radio. That, along with a combination of other great business deals, has Dallas Cowboys once again valued at the top of the NFL and also most valuable sports team in the world.
Here's the Top 10 Most Valuable NFL Franchises:
Dallas Cowboys - $8 Billion
New England Patriots - $6.4 Billion
Los Angeles Rams - $6.2 Billion
New York Giants - $6 Billion
Chicago Bears - $5.8 Billion
Washington Commanders - $5.6 Billion
New York Jets - $5.4 Billion
San Francisco 49ers - $5.2 Billion
Las Vegas Raiders - $5.1 Billion
Philadelphia Eagles - $4.9 Billion
There isn't anybody that compares to the NFL in sports or entertainment. They are in an orbit all by themselves. - George Pyne, Bruin Capital
How did the Cowboys get to this evaluation?
Since Jerry Jones bought the Dallas Cowboys in 1989 (for a mere $150 million by the way), he has brokered sponsorship deals outside of what the NFL has sold for the league. Add in the TV rights the team has negotiated, numerous licensing deals, the billion dollar AT&T Stadium where the Cowboys play and other big deals and you can see why the Cowboys bring in all the monies.
All of this while the Cowboys haven't won a Super Bowl since 1996, that's 26 years. Almost three decades without winning a championship. Jerry Jones may not have a football mind but he is a brilliant businessman and this proves it.
Dallas Cowboys Cheerleader Photos From the Past
These Dallas Cowboys cheerleader photos date back to the 1970s.
RAD! 90's themed Airbnb in Dallas, Texas
You should check out this amazing Airbnb in Dallas, Texas
Unusual House in Dallas With a Bar, Stage, and Stripper Pole
It looks like a normal home from the 60s but the inside looks like nothing you would expect.
More From Lonestar 99-5 FM