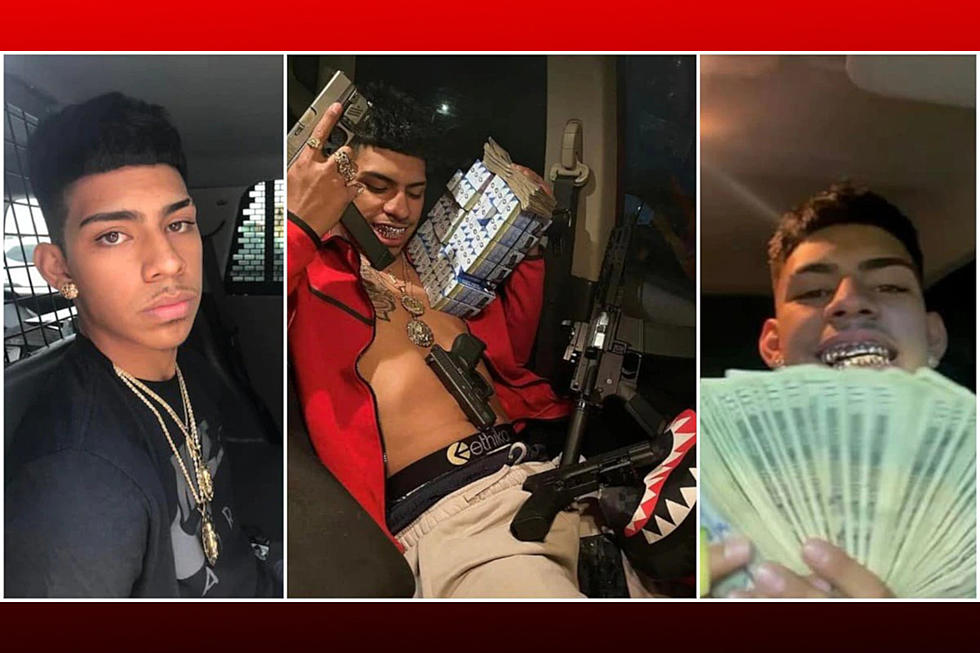 You Big Dummy! Texas Teen Arrested After Posing Online with Guns, Drugs
Bexar County Sheriff's Office/KWTX
I always ask the question whatever happened to a little bit of privacy? Kids nowadays put literally everything they do on social media. Kids will post what they ate for dinner, where they live, and the stuff they're getting up to that might not exactly be legal. I just don't understand why. If you give the Internet that much time in your day you're gonna end up in some type of trouble, which is exactly what happened to 17-year-old David Guerra on March 29.
WHAT WERE YOU THINKING?
David another guy, 21-year-old Ezra Guerra, thought it would be a great idea to post pics of themselves with THC cartilages, weapons, and cash all over their Instagram pages.
My guess is they were showing how flashy and cool their lifestyle is, but in reality this is reckless and definitely stupid. On March 29, when the two teenagers decided to post the ridiculous pictures, deputies with the Bexar County Sheriff's Office decided to investigate the pair of clout chasers. The two ended up being located and pulled over for a traffic stop.
Deputies reportedly found two handguns, cocaine, marijuana, $15,000 in cash, and hash oil.
DUMB AND DUMBER
17-year-old David was booked into the county jail on charges of possession of controlled substances, unlawfully carrying a weapon, and reckless conduct, while Ezra was booked on charges of possession of a controlled substance, possession of marijuana, and possession of a controlled substance with the intent to deliver.
While I do think that it is beneficial that these young men are off the streets (because who knows how badly the situation could have ended), this just goes to show if you post anything dangerous, anything illegal, or anything just flat-out dumb, you best believe somebody is watching and will give you the sort of attention you do not want.
Meet Texas' Most Wanted Fugitives
39 Missing Children Found in Two-Week Rescue Operation in Georgia
Texas 6 Most Wanted Fugitives (October 2021)
Take precaution and familiarize yourself with the following faces. These criminals are currently listed in the Texas 10 Most Wanted.
More From Lonestar 99-5 FM