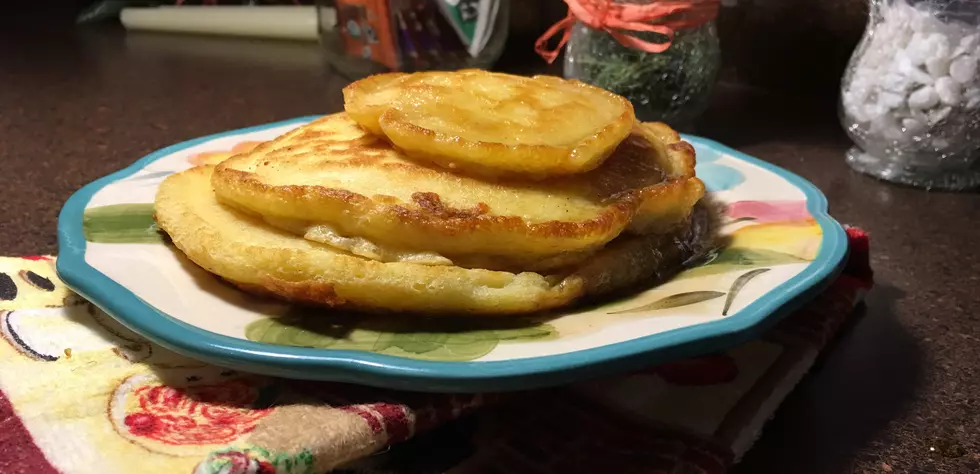 Tis The Season To Cozy Up With Scratch Pancakes & Syrup
photo Jan M. Townsquare Media
Jan's Scratch Pancakes
The thing that often marks a good weekend morning for me is a nice stack of delicious homemade pancakes.With the weather chilling outside I wanted to share my super easy recipe because once you know it you can magically whip up pancakes on the fly!
When I tell people that I make pancakes from scratch they shake their head because after all there's pancake mix for that, right? But I hate relying on anything too fancy and I want to know where my pancakes come from so my recipe is simple sized (one good stack) and it's pretty easy to have the ingredients on hand!
Once you know this recipe you can whip up a batch of pancakes anytime
What about syrup? Well I love that as long as I have sugar and maple flavoring in the house I never have to worry about running out of syrup again! Made from scratch syrup is super simple! Recipe is coming up right after the pancakes!
1 egg
1/2 cup milk
1 tablespoon of melted butter
1/2 cup flour
a good 1/4 tsp salt
1 and 1/8th tsp baking powder
1 heaping tsp. sugar
Mix wet and dry ingredients separately first. I like to add the butter to the milk, beat the egg separately and then mix it into the milk and butter
Mix dry ingredients. I like to scoop my 1/2 cup flour into a bigger measuring cup which becomes the mixing 'bowl' and stir in the salt, baking powder and sugar with a fork. I make a little well in the middle and mix gently in half the wet ingredients and then the rest.
Note: Remember lumps are good or you'll flatten the pancakes! Also make sure your baking powder is fresh (it can make a big difference).To test it-just add a little warm water to a little baking powder- I found the good baking powder had a gentle sizzle the old baking powder sizzled like crazy)
I like to fry my pancakes in a good tablespoon of butter, one at a time with a sturdy spatula.. Don't flip until it's got some good bubbles in the middle and is firming up a bit. You should only have to flip it once. Add some more butter for the flip side, it fries up much quicker  than the first side and you'll want to peek underneath with your spatula to see when it's brown.
Syrup: (in lieu of actual maple syrup- which is always the best)
With this simple recipe in your back pocket you never need to worry about buying artificial pancake syrup! Of course actual maple syrup trumps this, but this is so much simpler than fake syrup and it's good!  The original recipe I found called for half brown sugar and half white- I found it works well to just use a good quality sugar like Raw Cane Sugar. To make a good amount for a nice little stack of pancakes use these measurements:
1/2 cup sugar
1/4 cup water
1/4 tsp. maple flavoring/extract (right there with your Vanilla extract in the store)
Just warm the water and sugar to a slow boil in a sauce pan, let it gently simmer/bubble a little while (3-5 minutes), (you can put a lid on it). Remove from heat and stir in the maple flavoring. That's it!
Rule of thumb use half as much water as sugar and as in this recipe 1/4 water gets 1/4 tsp maple flavoring if you increased it to 1/2 cup water and 1 cup sugar you would use 1/2 tsp maple.
I love knowing that I can pull together a delicious pancake breakfast like the old days, with a few simple ingredients! Hope you enjoy and find an opportunity to cozy up with some delicious pancakes soon!
More From Lonestar 99-5 FM