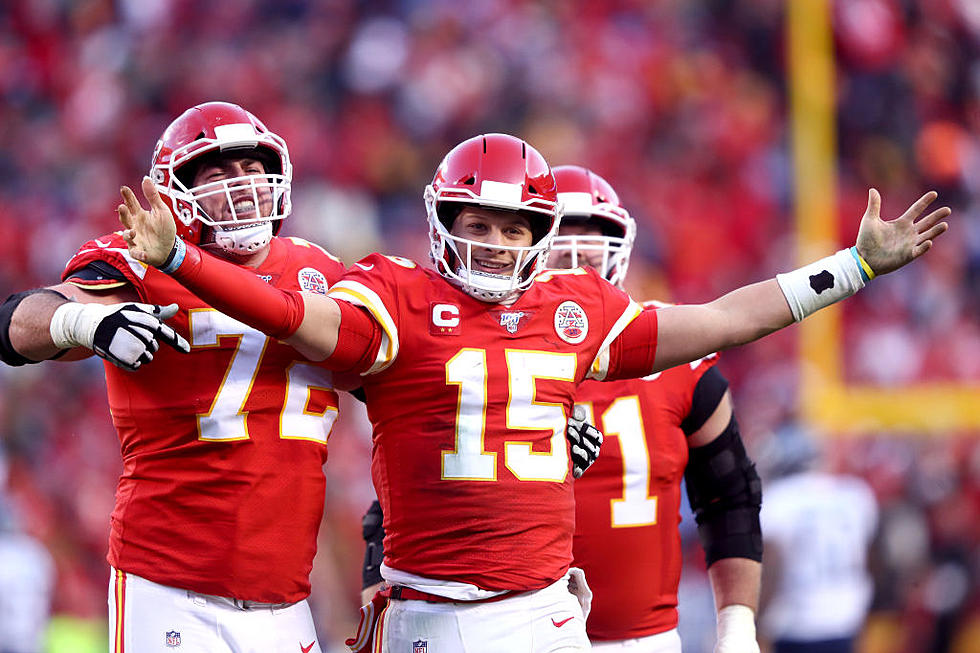 Kansas City Chiefs 2020 Schedule Features Five Primetime Games
Jamie Squire, Getty Images
Enter your number to get our free mobile app
When you win a Super Bowl, part of the following season's schedule is a certainty: you'll play on the Thursday Opening Night Game, and you'll have at least one appearance during Thursday Night, Sunday Night and Monday Night Football.
The Kansas City Chiefs' 2020 schedule features all of that and more. The Chiefs Kingdom will celebrate its Super Bowl LIV championship on Thursday, September 10th as the Chiefs host the Houston Texans in their Week 1 match-up. The Chiefs will go on to play two Sunday Night Football games, another Thursday Night game and a Monday Night game. The Chiefs will have a game against Tom Brady, too, with a Week 12 game against the Tampa Bay Buccaneers.
Also, something new for Chiefs games in 2020, in Lubbock. Patrick Mahomes and the Chiefs will now be heard on Awesome 98 (98.1 FM) as Townsquare Media of Lubbock has signed a multi-year contract extension with the Chiefs Radio Network.
KANSAS CITY CHIEFS 2020 REGULAR SEASON SCHEDULE
ALL GAMES HEARD IN LUBBOCK on AWESOME 98 (98.1 FM)
WK 1- Thr, Sept. 10 - Texans @ Chiefs - Pregame 6pm / Kickoff 7:20pm
WK 2- Sun. Sept. 20 - Chiefs @ Chargers - Pregame 2pm / Kickoff 3:25pm
WK 3- Mon. Sept. 28 - Chiefs @ Ravens - Pregame 6pm / Kickoff 7:15pm
WK 4 - Sun. Oct. 4 - Patriots @ Chiefs - Pregame 2pm / Kickoff 3:25pm
WK 5 - Sun. Oct. 11 - Raiders @ Chiefs - Pregame 11am / Kickoff 12pm
WK 6- Thr. Oct. 15 - Chiefs @ Bills - Pregame 6pm / Kickoff 7:15pm
WK 7- Sun. Oct. 25 - Chiefs @ Broncos - Pregame 2pm / Kickoff 3:25pm
WK 8- Sun. Nov. 1 - NY Jets @ Chiefs - Pregame 11am / Kickoff 12pm
WK 9- Sun. Nov. 8 - Panthers @ Chiefs - Pregame 11am / Kickoff 12pm
WK 10- BYE WEEK
WK 11- Sun. Nov, 22 - Chiefs @ Raiders - Pregame 6pm / Kickoff 7:20pm
WK 12- Sun. Nov. 29 - Chiefs @ Buccaneers - Pregame 2pm / Kickoff 3:25pm
WK 13- Sun. Dec. 6 - Broncos @ Chiefs - Pregame 6pm / Kickoff 7:20pm
WK 14- Sun. Dec. 13 - Chiefs @ Dolphins - Pregame 11am / Kickoff 12pm
WK 15- Sun. Dec. 20 - Chiefs @ Saints - Pregame 2pm / Kickoff 3:25pm
WK 16- Sun. Dec. 27 - Falcons @ Chiefs - Pregame 11am / Kickoff 12pm
WK 17- Sun. Jan. 3 - Chargers @ Chiefs - Pregame 11am / Kickoff 12pm
More From Lonestar 99-5 FM