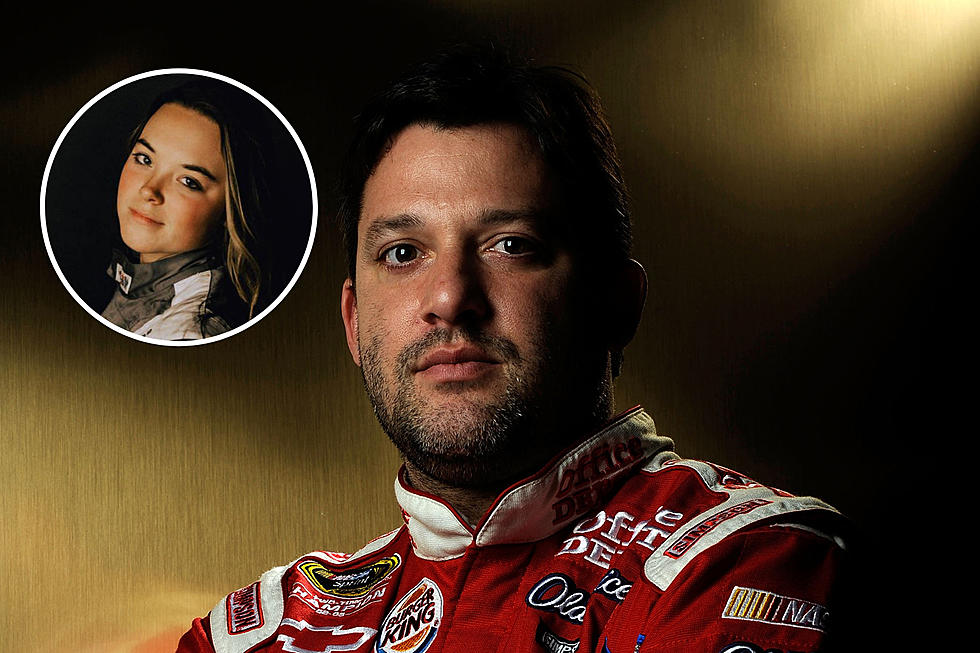 NASCAR Icon Tony Stewart Mourns Teammate Killed in Road Rage Accident
Rusty Jarrett, Getty Images/Ashlea Albertson Racing, Faebook
NASCAR legend Tony Stewart turned to social media on Friday (Aug. 18) to mourn the death of racing driver Ashlea Albertson, who was killed in an accident caused by a road rage incident on I-65 in Indiana on Friday morning.
"Today, I lost a teammate," the three-time NASCAR Cup Series champion writes.
"@AshDogRacing had an infectious personality and could light up any room. She was a great race car driver that was involved in a road rage accident and lost her life," he adds. "In the past, I've also gotten caught up in road rage. I hope that we can honor Ashlea by controlling what we can control on the highway. Losing her is a sobering reminder of how precious life is. Please join me in keeping her family and friends in your prayers."
24-year-old Albertson drove for Tony Stewart Racing, racing TQ Midget cars on the reginal circuit in Indiana. Indianapolis news station WTHR reports that Albertson was a passenger in a white GMC Terrain before the accident. Video from another nearby vehicle shows a black Chevy Malibu and the Terrain both accelerating, with the drivers refusing to let each other pass. Investigators say the driver of the Malibu started to change lanes to cut the Terrain off, and the driver of the Terrain lost control and began to spin, which caused the vehicles to collide.
The Terrain rolled over, throwing Albertson from the vehicle, while the Malibu came to a stop in a field after leaving the road. Both Albertson and the driver of the Terrain were transported to University of Louisville Hospital, where Albertson was pronounced dead. Others involved in the accident received treatment for non-life-threatening injuries.
Toxicology results are pending for both drivers, and authorities will decide if charges are warranted in the accident after completing an investigation.
Albertson's father posted a video to her Facebook page, calling it "one of the hardest posts that I could possibly make."
"I want to thank you, from my family, from myself, for making her feel like she was the best racer out there each and every time that she took the track,' he states in an emotional message. "She was a good kid, a better person. She just loved racing, she loved the community and you all have done so much for her. Thank you, from the bottom of my heart. Please keep my family, her fiance, and everybody who is going through this time in your thoughts and prayers."
Prayers for Jimmie Johnson's Family — the NASCAR Community Reacts
See heartfelt reactions from the NASCAR community after the
alleged murder-suicide
of Jimmie Johnson's mother-in-law, father-in-law and nephew. Johnson is married to Chandra Janway, a former model from Oklahoma.
PICTURES: See Inside NASCAR's Most Expensive Mansions
The largest NASCAR driver home includes an indoor aquarium and more than 19,000 square feet of living on 415 acres. The No. 10 home on this list of the 10 most expensive is hardly a postage stamp by comparison.
Taste of Country recently compiled the priciest NASCAR driver homes, and while a few famous names make the list, a few not-quite-as-famous names do, too. Dale Jr., Denny Hamlin, Danica Patrick and the Busch brothers are a few of the drivers to look for on this list of mega-mansions. See pictures of all 10 and a full home tour of the No. 1 house.
More From Lonestar 99-5 FM