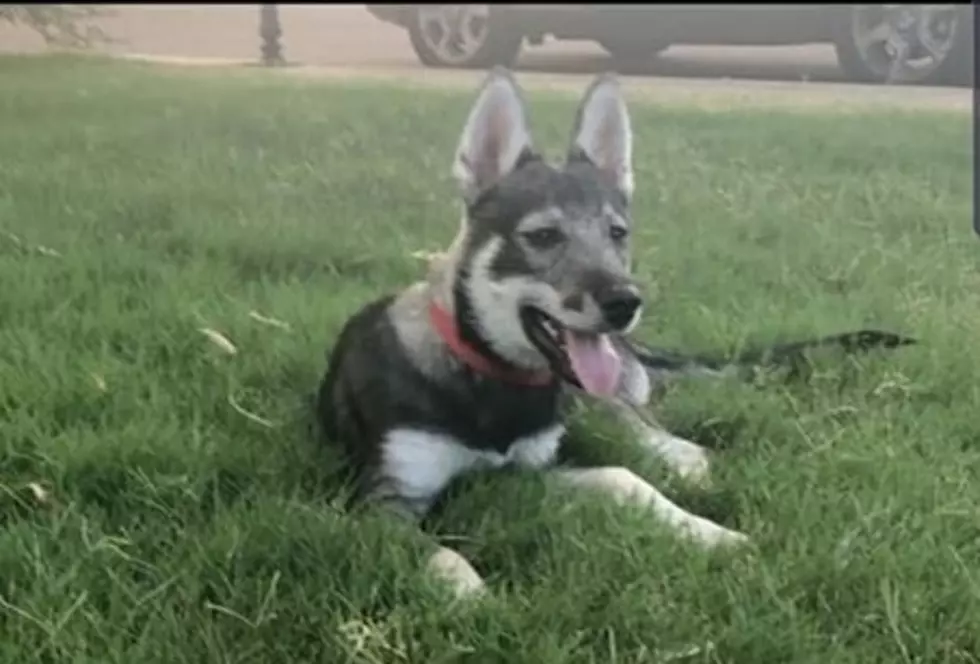 Update: A Lubbock Soldier's Missing Puppy Has Been Found
Dakota Crump
Great news! Rhegar has been found.
Heather Dawn Crump posted a Facebook update late Friday night to share the news.
According to Crump, a man named David Diehl returned Rhegar after seeing our story about the missing dog. Being the standup guy that he is, Diehl even refused the reward money.
Thank you, David, and thanks to the FMX listeners and others for spreading the story.
A deployed Army soldier and his wife from Lubbock are in desperate need of help finding their beloved fur baby.
The Lubbock military family puppy, Rhegar, was lost around 9 a.m. on Monday (Sept. 2nd). He was last seen off of 31st Street, between University and Avenue X.
Rhegar is a 4-5 month old husky/shepherd mix with very unique features. He has cream around his eyes and white/cream on his mouth flaps. He has a distinctive black point that goes down his cheekbone as well. Rhegar was wearing a red collar, however, he is not chipped; his fur parents have all records and a lot of proof that he is theirs.
Two days passed with zero sightings, but on Wednesday, Sept. 4th, he was spotted near Lubbock High School being walked by a young child.
At this point, it's believed that someone picked Rhegar up, and, since he's not chipped, assumed he was a stray and decided to keep him. The reality is his family misses him so much and the thought of losing him is almost too much to bear.
Rhegar's owner is currently deployed for the U.S. Army and is stationed overseas, and his wife has spent every waking moment hanging flyers and walking neighborhoods looking for their fur-baby. No family should suffer this type of loss.
Rhegar's daddy is following every post from thousands of miles away, trying to find his boy. We believe that a good person has found Rhegar and doesn't know that he's being sought out, so if you know someone with a new puppy that looks like Rhegar, please let them know his family misses him and would like to have him home.
A reward for Rhegar's return is being offered, no questions asked.
Heather Crump can be reached at 806-789-5622. Unfortunately, Dakota cannot be reached by phone because he is currently stationed overseas, but both are monitoring all Facebook, Nextdoor and Pawboost posts.
More From Lonestar 99-5 FM