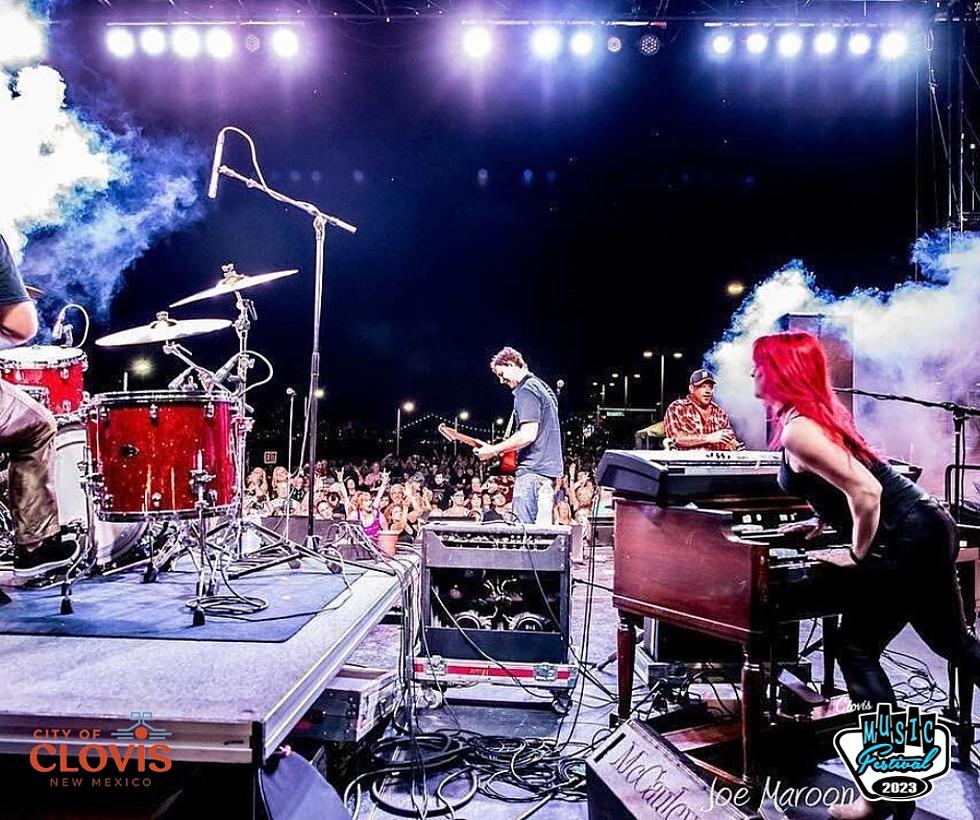 Clovis Music Festival Announced With A Big Lineup
Clovis Music Festival
Get ready to dance because we are only a couple of weeks away until the Clovis Music Festival.
Since 1987, people from across the globe have traveled to eastern New Mexico to celebrate the history of rock 'n' roll. The event is scheduled for April 14-15 at the Curry County Events Center. Here is the lineup and how to get tickets.
Friday, April 14th: Eli Young Band & Uncle Kracker
According to the press release, "Multi-platinum hitmakers Eli Young Band will headline the first night of the 2023 Clovis Music Festival, with chart-topping country rocker Uncle Kracker opening the show. Eli Young Band has always been unique in modern Country music as a true band of brothers who cling fast to their Texas roots. The band has maintained an impressive trajectory with singles earning Billboard's #1 Country Song of the Year and ACM Awards Song of the Year. They have also earned nominations from Grammy, CMA, CMT, ACA and Teen Choice Awards."
It continues to say, "Uncle Kracker vaulted to stardom as a charismatic presence and chief collaborator in Kid Rock's Twisted Brown Trucker Band. The Michigan singer, songwriter, and performer, also known as Matthew Shafer, kicked off an incredible solo career of his own. His 2000 major label debut, "Double Wide," fittingly went double-platinum and yielded the #1 smash hit "Follow Me." Uncle Kracker flew up the charts for five weeks at #1 with "When the Sun Goes Down," and he reached Country Music's Top 10 with his double-platinum crossover hit "Smile." Uncle Kracker has played sold-out shows across the country. He is still having a blast, and fans in eastern New Mexico undoubtedly will too, when they see him at the Clovis Music Festival."
Saturday, April 15th: Los Huracanes del Norte
"Los Huracanes del Norte are a pioneer group in the norteño music genre that have left an unforgettable mark on the music scene. They are distinguished in their genre for their diligence, discipline, humility and love for life. They are creators of a distinctive style that has rendered them international fame and an impressive production of 68 albums, three Grammy nominations, winners of the Billboard magazine trophy "la voz," the prestigious trophy of the Heraldo of Mexico, and numerous other awards. Los Huracanes del Norte celebrated their 50th anniversary last year and were honored with a star on the Hollywood Walk of Fame," says the press release.
Doors open at 6:30 p.m. on Friday night, IUncle Kracker comes on at 8 p.m. and Eli Young comes on at 9:30 p.m. The show starts at 8 p.m. on Saturday night. You can get seats in VIP or get general admission tickets. You can buy tickets now on their website.
The address for the event is 1900 E Brady Ave, Clovis, NM 88101
64 Artists Not in the Country Music Hall of Fame
Which county singer is most deserving of a Country Music Hall of Fame induction? Here are 64 artists that don't have a medallion yet, with some thoughts on when each is eligible and if their fans can expect that nod soon.
12 Binge-Worthy TV Shows Country Music Fans Can't Get Enough Of
Every so often, a TV show comes around that unites country music fans. For decades, fans have enjoyed various sitcoms and dramas that have both warmed our hearts or gathered us together in the name of determination.
Recently, Taylor Sheridan has commanded the attention of country music lovers with his Yellowstone series and the prequels that have followed. However, fans of the genre have also found unity in comedies including Reba and King of the Hill, or reality series including Duck Dynasty and Fixer Upper. And who could pass up a drama like Nashville that puts viewers in the middle of Music City itself?
More From Lonestar 99-5 FM