Lonestar 99.5 Events
Bobby Bones brings his comedy country parody band to Lubbock, TX on Friday, October 20.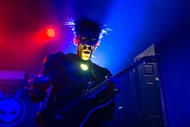 Fellow ghosts and goblins get ready for Powerman 5000 at Jake"s on Tuesday, October 31.
TSO returns with 'The Ghosts of Christmas Eve' Tour on Thursday, December 7 at the United Supermarkets Arena….
Events loops navigation