Everything We Know About Blake Shelton's New Album, 'Texoma Shore'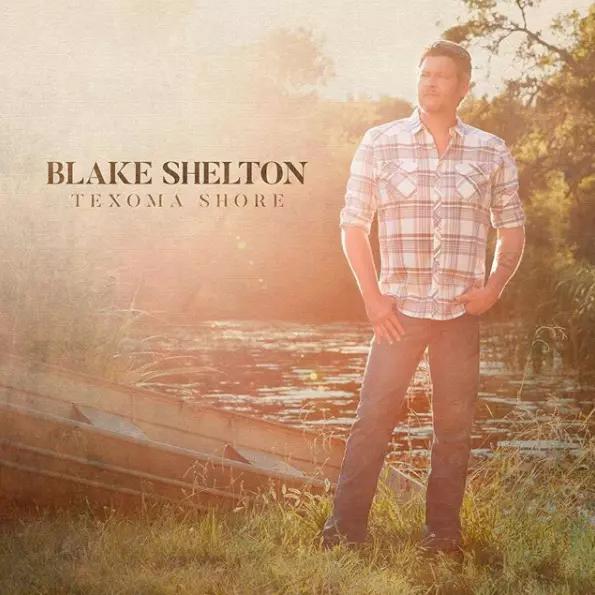 Blake Shelton is set to release his 11th studio album this fall. Texoma Shore is a journey back to the artist's roots, in more ways than one.
"When you listen to the record, it will go from something traditional to something that will make your head spin, back to something even more traditional," says Shelton in press release. "That's just what you can expect from one of my albums."
Texoma Shore follows Shelton's 2016 album If I'm Honest.
"At this point in my career, it's always good for me to try something different, with different sounds, and I think you'll hear hints of that on this record," Shelton continues. "I've explored about every part of country music you can explore, and it seems like I always keep coming back to my roots, which is traditional country music."
Below, The Boot rounds up all of the details known so far about Texoma Shore.
The Title
The title Texoma Shore is an ode to Shelton's unabashed Oklahoma pride. Lake Texoma is a reservoir formed by the Denison Dam, which is located on the Red River, at the border of Oklahoma and Texas (hence the portmanteau Texoma). The lake is located about an hour south of both Tishomingo, Okla., where Shelton lives, and Ada, Okla., Shelton's hometown.
"Lake Texoma has always been a place of great memories, new and old," Shelton says in a press release. "I literally recorded this album on its shore, so it's full circle for me to take the love of this place and my love of country music."
The Release Date
Texoma Shore is set for release on Nov. 3, but fans can pre-order the album now. Shelton admits that he wasn't expecting to release a new record in 2017.
"I planned on still being in the middle of releasing music off If I'm Honest, and that was the plan. That was the label's plan and the manager's plan, and I called one day and said, 'Hey guys, when this current single runs its course, screw it. Let's come out with a new album,'" Shelton tells ET. "Usually I get the call going, 'Hey, think maybe you could get in the studio?' So I caught everybody off guard, which is another indicator of how excited I am about this one."
The Record Label
Texoma Shore will be released on Warner Bros. Nashville, Shelton's longtime label home.
The Album Cover
The cover for Texoma Shore features a sun-washed portrait of Shelton, in his trademark blue jeans and a plaid button-down shirt, standing next to a rowboat on the shore of his beloved Lake Texoma.
The Producer
Shelton has not yet revealed who produced Texoma Shore. Scott Hendricks has produced or co-produced the last six of Shelton's projects.
The Single
Shelton introduced "I'll Name the Dogs" as the first single off his upcoming album on Sept. 8. The clever lyrics and traditional country theme are classic Shelton, akin to his big hit "Honey Bee," which was, coincidentally, co-written by one of the composers of "I'll Name the Dogs," Ben Hayslip.
"You find the spot and I'll find the money / You be the pretty and I'll be the funny," Shelton sings in the chorus of "I'll Name the Dogs." "You plant the flowers, I'll plant the kisses / Baby let's get right down to business …"
Matt Dragstrem and Josh Thompson were also part of the songwriting team for Shelton's latest single.
The Songs
Overall, Shelton says, Texoma Shore will be less personal than his last album, If I'm Honest: "There's a song or two on there that are directly personal, but, you know, for the most part, I just made an album that feels how I feel now — that's just happy and go with the flow," Shelton tells ET. "That's kinda how the album feels when you listen to it."
In addition to "I'll Name the Dogs," Shelton showcases a solid mix of fun and contemplative, slow and rowdy on Texoma Shore. The album contains one song that he wrote and is "very proud of," according to a press release, but which song that is, the release does not say.
Texoma Shore's second track, "At the House," Shelton explains, is part of the reason the album is named what it is. The song was written by Jamie Moore and Craig Wiseman, and the singer says he found himself connecting with the track while hanging out on Lake Texoma over the summer.
"There was one week in particular where it was just [girlfriend] Gwen [Stefani] and I out there just basically hanging out. We finally had some time off, so we went out on the water every day, went back up to the house every night and just had one of the greatest times of my life," Shelton shares. "We were listening to this song and relating to it and realizing, 'Man, this is one of those summers that we're always going to remember.'"
Blake Shelton, Texoma Shore Track Listing:
1. "I'll Name the Dogs"
2. "At the House"
3. "Beside You Babe"
4. "Why Me"
5. "Money"
6. "Turnin' Me On"
7. "The Wave"
8. "Got the T-Shirt"
9. "Hangover Due"
10. "When the Wine Wears Off"
11. "I Lived It"
Blake Shelton Through the Years
How Well Do You Know Blake Shelton?
Subscribe to Lonestar 99-5 FM on

Source:
Everything We Know About Blake Shelton's New Album, 'Texoma Shore'